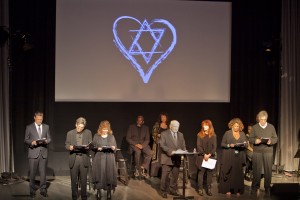 The Simon Wiesenthal Center's Museum of Tolerance, played host, on Sunday, April 22nd to an evening of theatre, music and celebrity readings, that raised thousands in emergency funds to be sent to remaining Holocaust Survivors. An evening written by TV comedy director, Zane Buzby, and produced by Conan Berkley, Zane Buzby and Frances Fisher, used true stories of Holocaust Survivors, in the own words, that were read by such noted artists as Ed Asner, Frances Fisher, Elliott Gould, Valerie Harper, Lainie Kazan, Randal Keith, Arnold McCuller, Alan Rosenberg and Brenda Russell. Additional readings were given by Rabbi Moshe J. Kushman and Consul General of Israel, David Siegel.
The audience sat in focused silence as the actors dramatically brought patrons the physical and emotional struggles of men and women, who experienced, as one letter expressed "… terrors that can not accurately be shared, even in writing." Testimonies that depicted first hand accounts of torture, rape and the mass murder of parents, siblings, sons and daughters, as well as overall message of hope and the power of the human spirit. Accentuating an already passionate evening were haunting renditions of songs such as "Fields of Gold," "I Think Its Going To Rain," "Lost in the Stars,' and "Bring Him Home" by Randal Keith, Brenda Russell and Arnold McCutler.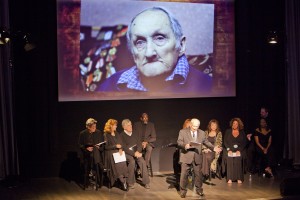 Founder of The Survivor Mitzvah Project, Zane Buzby, told the patrons that "… the greatest tribute we can give the victims of the most catastrophic human tragedy of the 20th century, is to honor their family members, who – by some miracle, survived." Among those in attendance who raved about the evenings performance included, child star Erin Murphy, who remarked, "Inspirational! In fact, I am a little embarrassed not to have known more about the plight of those who survived the atrocities of the Holocaust. Ignorance may be bliss, but sometimes, it is just ignorance.
Ms. Buzby has created a uniquely educational and theatrical experience by which to raise awareness that everyone should see." Academy award winner George Chakiris added, "This was a great and important evening. I'm so glad I was here. Wonderful work, by truly talented actors. Zane Buzby is doing something so beautiful." Cabaret sensation, Barbara Van Orden, said, "God Bless Zane Buzby and The Survivor Mitzvah Project. What an experience this program was. Hearing the letters from the Holocaust Survivors was very heart wrenching, as well heartwarming."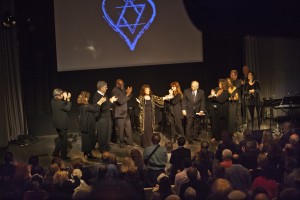 Stage and TV star, Holland Taylor, summed the experience up by saying "Only Zane Buzby, or someone like her – if there is someone like her – who lives in the world of joyous comedy, would have the spirit and strength to do this noble work in the face of unbearable sorrow." Ms. Buzby concluded the evening by thanking the audience for their support, "These are the people the world has forgotten. The people who are still alive. People who are isolated and alone – still living and struggling to survive in hostile environments. These are the people you are rescuing. These are the lives you are saving."