Donate $1800 to support one survivor for an entire year of care.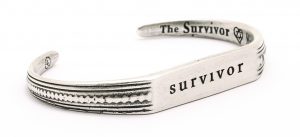 If you wish, along with your donation of $1800, you can opt to receive The Survivor Bracelet designed exclusively for
The Survivor Mitzvah Project by Beverly Hills jeweler Dominique Cohen, engraved with the name of the Holocaust Survivor you are supporting for one year of care.
Can a Bracelet Save a Life? The Story of the Survivor Bracelet
Having a Bar Mitzvah or Bat Mitzvah?
Make SMP your Mitzvah Project and Save a Life! Find out more here.
Donate stocks or other securities directly to SMP's Brokerage Account.
Transfer to Account # 24120654 at Wells Fargo Bank. Our Depository Trust Company [DTC] number is 0141.
We are proud to have the

Good People Fund as one of our generous donors.