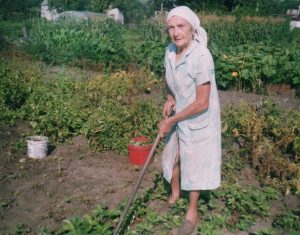 Greetings, my dear beloved 'daughters' Zenochka and Donochka and my American friends!!!
First, my dear golden daughters, I want to congratulate you on the great holiday of Chanukah, the holiday of light and warmth. I wish you strong health, wellbeing, happiness, luck, and success in all your activities. May all your dreams come true with G-d's help and all the blessings. Omen!!!
My dear daughters, if you don't find it hard, please, pass my congratulations on Chanukah to all the American friends. I wish them kindness, wellbeing, strong health, happiness, and may they all live till the next year and celebrate all Yiddishe einteivyn: Omen!!!
I love you all and miss you very, very much.
There is no more work on my garden plot. Everything is done for winter. I earthed up the soil, dug up all the seedbeds, chopped up the earth around the strawberries, planted garlic for winter and covered it before it starts to freeze.
There haven't been any frosts so far, though the nights and early mornings are cool. People go out in warm coats. During the day it's 4-5 degrees C. Thank G-d, I try to do everything by myself, though slower than before. They say, life is movement, so I follow this statement. Every day early in the morning I do some exercises, then do all the chores about the house.
I love you all very, very much. May G-d protect you all, always and everywhere, in all your initiatives. May kindness, joy, mighty health, success and a lot of smiles settle in your houses. Omen!!!
I love you all. Miss you. Kiss you. Luba.